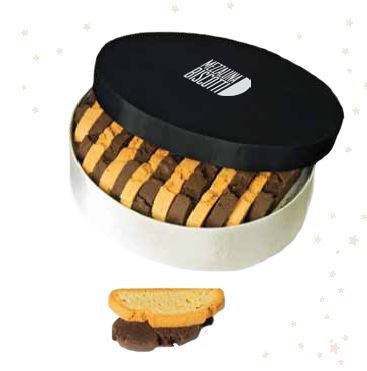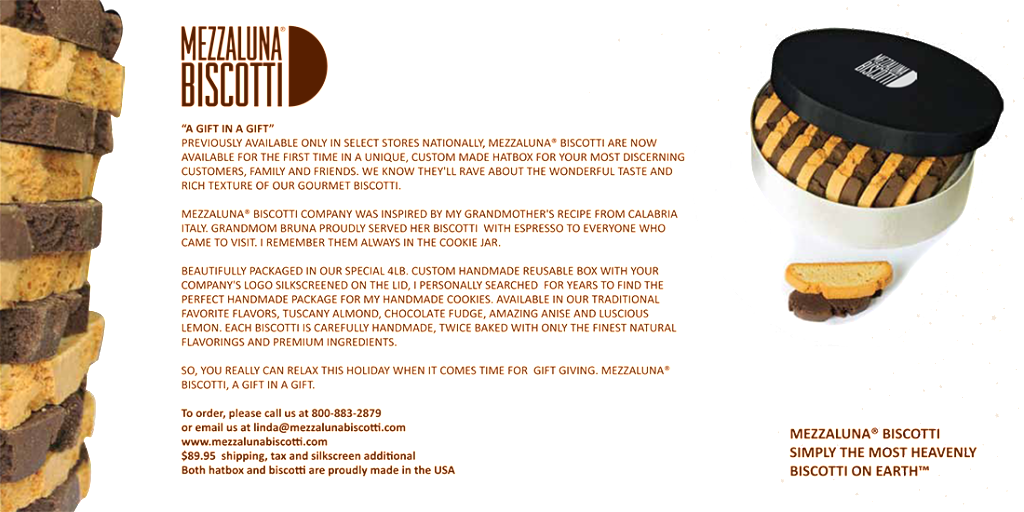 Mezzaluna® Biscotti are now available for the first time in a Handmade Hatbox suited for your most discerning family, friends and clients!
We know they'll rave about the rich taste and texture of our all natural, gourmet biscotti. Mezzaluna® Biscotti is inspired by my grandmother and her recipe from Calabria, Italy.
We beautifully package our biscotti for you in a special 4lb custom handmade hatbox, with the option of our logo or your own custom logo emblazoned on the lid. I've personally searched for years to find the perfect handmade package for my handmade cookies. I think you will enjoy this!
Each hatbox is made up of  4lbs of a Traditional biscotti flavor such as Tuscany Almond, Chocolate Fudge, Amazing Anise, or Luscious Lemon. Each biscotti is handmade, twice baked with only the finest natural flavorings and premium ingredients. Delivery anywhere in the Continental U.S.
And you can even order our gifts online! Add it to your cart in our online store by clicking below.
Relax when it comes time for gift giving, you're giving Mezzaluna® Biscotti!